Adeline Dumapong-Ancheta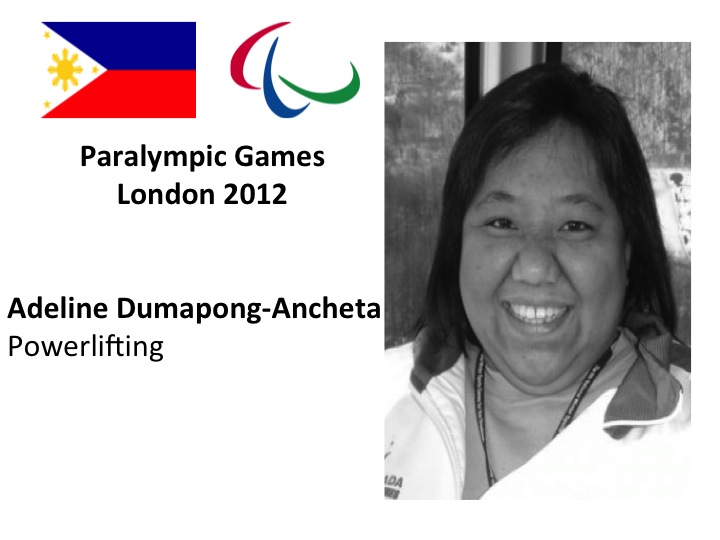 Date of Birth:  December 13, 1973
Hometown: Kiangan, Ifugao
Current Occupation: Executive Director at Freedom Technology Wheelchair Foundation, Inc.
Disability: Polio on both legs (wheelchair user)
Cause of Disability: Poliomyelitis
Event at the 2012 Paralympic Games: Powerlifting (Over 82.5 Category)
Years in Competitive Sports: 15 years
Recent Awards and Accomplishments:
Gold, 6th ASEAN Para Games, Solo, Indonesia, 2011
Gold, IWAS World Games, Bangalore, India, 2009
Gold, 5th ASEAN Para Games, KL, Malaysia, 2009
Gold, 4th ASEAN Para Games, Korat, Thailand, 2008
Gold, Asian Powerlifting Open Championship, Manila, Philippines, 2007
Gold, 3rd ASEAN Para Games Manila, Philippines, 2005
Gold, 2nd ASEAN Para Games, Hanoi, Vietnam, 2003
Gold, 10th Malaysian Paralympiad, KL Malaysia, 2000
Gold, USA Paralympic Qualifier, Florida USA, 2000
Gold, Asian Benchpress Championships, Manila, 1999
Silver, Asian Para Games, Guangzhou, China, 2010
Silver, Far East and South Pacific Games, Busan, Korea, 2002
Silver, Far East and South Pacific Games, Bangkok Thailand, 1999
Bronze, Paralympic Games, Sydney, Australia, 2000
National Record holder since 1997 up to the present
Three-time Paralympian
Sydney, Australia 2000
Athens, Greece 2004
Beijing, China 2008
Distinction:  The first and still the only Filipino Paralympic Games Medalist
Dumapong-Ancheta was born in Kiangan, Ifugao Province on Dec. 13, 1973 to a father who was a mid-level public servant with not enough resources to support six children. Her parents had to make a painful decision.
"I remember my father and mother arguing whether to leave me in a dormitory for persons with disability or grow-up in Kiangan. I remember my father telling my mother that my staying in Kiangan would be selfish for them," recalls Dumapong-Ancheta, the third in the brood.
She was sent to a dormitory for PWDs called Bahay Mapagmahal in Quezon City, ran by sisters of the Immaculate Conception of Mary, where she grew up.–Cong B. Corrales
Read More on PWD Files: A Filipina Paralympic legend
Click here to see the other 2012 Paralympians